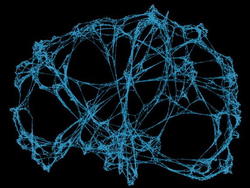 Basingstoke IVC Science Cafe invite you to this free Royal Institution talk titled "Models of the mind: how maths has shaped our understanding of the brain"
Please register for the event via this link:
https://www.rigb.org/whats-on/events-2021/march/public-models-of-the-mind
We will have the replay of the video available for 72 hours after the event for those of you that can't make the date. It will also be uploaded to YouTube in the future.
SUMMARY

Our brain is a powerhouse, made up of 85 billion neurons and all connected by over 100 trillion synapses. How do you study something so intricate and powerful?
Join computational neuroscientist Grace Lindsay as she explores how mathematical models have allowed scientists to understand and describe many of the brain's processes, in conversation with the Royal Institution.
In this conversation, Grace will discuss how we've progressed from experimenting on frog legs to building the large models of artificial neural networks that form the basis of modern artificial intelligence.
SPEAKER:

Grace Lindsay is a computational neuroscientist currently living in London.
She completed her PhD at the Centre for Theoretical Neuroscience at Columbia University, where her research focused on building mathematical models of how the brain controls its own sensory processing.
Before that, she earned a Bachelor's degree in Neuroscience from the University of Pittsburgh and received a research fellowship to study at the Bernstein Center for Computational Neuroscience in Freiburg, Germany.
She was also awarded a Google PhD Fellowship in Computational Neuroscience in 2016, and has spoken at several international conferences. She is also the producer and co-host of Unsupervised Thinking, a podcast covering topics in neuroscience and artificial intelligence.
If you have any issues with your registration, please contact the RI at richannel@ri.ac.uk.